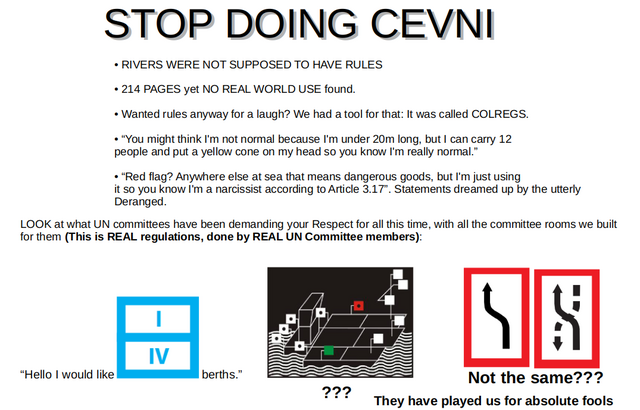 • RIVERS WERE NOT SUPPOSED TO HAVE RULES
• 214 PAGES yet NO REAL WORLD USE found.
• Wanted rules anyway for a laugh? We had a tool for that: It was called COLREGS.
• "You might think I'm not normal because I'm under 20m long, but I can carry 12 people and put a yellow cone on my head so you know I'm really normal."
• "Red flag? Anywhere else at sea that means dangerous goods, but I'm just using it so you know I'm a narcissist according to Article 3.17". Statements dreamed up by the utterly Deranged.
LOOK at what UN committees have been demanding your Respect for all this time, with all the committee rooms we built for them (This is REAL regulations, done by REAL UN Committee members):
"Hello I would like berths." They have played us for absolute fools "